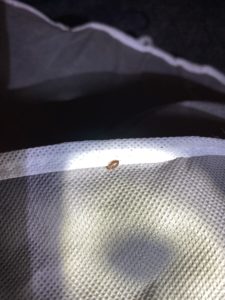 Bed Bugs
There are very few people who don't know the rhyme 'Goodnight, sleep tight, and don't let the bed bugs bite' but it is unlikely many people really give much thought to the reality of the saying, particularly in relation to bed bug pest control.
Bed bugs are far more common than many may realise. People often associate them with unhygienic conditions, but that is far from the case now, for a number of reasons.
How can I get bed bugs?
Bed bugs are commonly spread through increased travel and staying in hotels, or other accommodation where they can enter luggage. They are sometimes found in secondhand furniture which has been moved from a contaminated property, and they also spread through natural migration whilst they search for food, by moving between rooms in houses or even between adjoining properties where there are gaps in the structure. We have even seen cases where bed bugs have entered a property in brand new imported furniture.
How to check for bed bugs?
Usually the first anyone knows that they have bed bugs is the tell-tale red bites, which are often in a line or in a cluster. These can be very itchy and can swell. NHS advice on treatment for bed bug bites can be found here.
Other signs of bed bug presence might include spots of blood on bedding; small brown spots on bedding or furniture (bed bug faeces); and sometimes it is possible to actually see bed bugs as they are visible to the naked eye. Whilst they have a number of life stages, adult bed bugs are around 5mm in length and are brown in colour. They are almost disc-like in shape.
How to get rid of bed bugs?
Bed bugs like to hide in cracks and crevices in and around the bed (due to that being their primary food source location when you are sleeping there!). They also lay their eggs in these areas and this can make them particularly difficult to treat, so it is always recommended to seek professional advice as soon as you suspect you have an infestation. DIY treatments are usually unsuccessful and can result in increased resistance among bed bugs to some insecticides.
At iX5 Pest Control we offer a range of treatments, but usually recommend a commercial 180oC steam treatment of beds, mattresses and bedding as this provides an instant result on all bed bugs and eggs, and this is normally followed up with a residual insecticide treatment. Due to the bed bug lifecycle we recommend a follow-up treatment around two to three weeks after the first, and also recommend that treatment is undertaken in all adjacent rooms to ensure the best chance of eradication.
If you suspect you have bed bugs in your property or require assistance or advice on any pest matter, please contact us here or call us on 01604 328545